Special offers
July 2019
Tartare fest
Since our customers, in addition to "svíčková" and goulash, also prefer steak tartare, we have decided to extend the offer of steaks tartare in a big way for you this month. So the Tartare fest is taking place at Čáp during the whole July!
You can choose from seven juicy tartare steaks. Čáp's beef tartare and Tartare of mature beer cheeses, which you usually find in our classic meals menu. The next are Belgian tartare with gran moravia cheese and Belgian fries, French tartare with pickles, Dijon mustard and garlic toast, Veal tartare with truffle oil, quail egg and gran moravia cheese, Salmon tartare with apples, créme fraiche and toast and superb vegetarian Beetroot tartare with goat cheese, balsamico and toast.
You can sit in the garden or inside in the beerhouse. Please, book a table inside via phone 778 545 878 or via the booking form.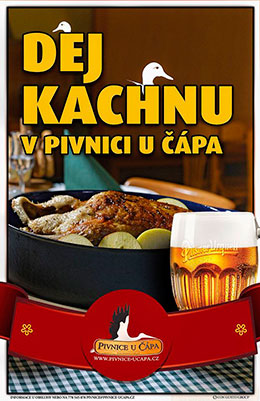 June 2018
WHOLE ROAST DUCK IN A ROASTING PAN
Enjoy an excellent lunch or dinner with your family or friends!
A whole roast duck, served in an enamel roasting pan, with a variety of bread, potato and Karlsbad dumplings, and a variation of white and red cabbage awaits you.
Then you just need to order a pint of Pilsner Urquell tank beer and a perfect gastronomic experience is guaranteed.
All this for up to four people at U Čápa beerhouse for
613 CZK
The price includes:
Whole roast duck (2200 g)
Four portions of three kinds of dumplings
Four portions of two kinds of cabbage
---