Special offers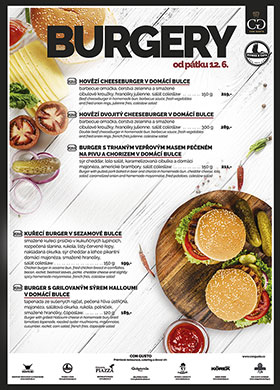 June 2020
Čáp´s Burgers
We are back after the forced closure of restaurants! And we start with a big hit…
From Friday, June 12, you can enjoy our juicy burgers. We serve them in our homemade buns and you can have a classic beef and double beef cheeseburger with french fries, a popular burger with pulled pork with fried potatoes or a chicken burger with french fries. You get a coleslaw salad with all these meat burgers. Even those who do not like meat do not have to give up the burger! We offer a burger with grilled halloumi cheese and oyster mushrooms, which we serve with french fries and "čáposlaw" salad. Is it mouth-watering for you? Come to our beerhouse, our burgers rock!
You can also book a table at +420 778 545 878.
We are looking forward to your visit!
March 2020
Schnitzel feast
Come to U Čápa Beerhouse in March to enjoy schnitzels in 7 different variations! The Schnitzel feast is here.
We have prepared juicy meals which will melt on your tongue. Fried pork neck with pickle, mustard and bread, pork loin stuffed with spinach and mozzarella with mashed potatoes with onion, chicken breast fillet marinated in yoghurt, coated in cornflakes with boiled potatoes and herb sauce. We could not miss venison – boar cutlets fried on lard with mashed potatoes and cucumber salad and traditional and popular Ondráš schnitzel with pork loin in a potato pancake with čáposlaw salad and cheese sauce. We also have fried beef rib eye Porthaus marinated in Dijon mustard with mayo potato salad. And what would the Schnitzel feast be like if we didn't have a classic Wiener veal schnitzel with Viennese potato salad? You can enjoy these variations of Czech favorite classics at Čáp´s Beerhouse during March!
Call us at +420 778 545 878 to book a table or come straight to the corner of the Obilný trh. We look forward to you!
February 2020
Goulash february 2020
Come to U Čápa beerhouse and savor meals from our february offer! We have prepared goulash specialties for you and you will not know which one to choose first. Pork, boar, beef, hungarian or rather fish or meatless option? Check out what you can taste.
As a soup you can have a Mexican goulash soup with chicken, red beans, corn, chili and cream gnocchi. The main courses are classic and also unusual. Boar goulash in red wine, pork goulash with liver or spicy Hungarian beef goulash with sausage. There is also our "signature dish", Čáp's beef goulash, which includes sausage and onion in addition to beef and is served with Carlsbad dumplings and potato pancakes. Mushroom lovers can also enjoy mushroom goulash from oyster mushrooms, chanterelles and forest mushrooms with homemade spaetzle as a side dish. A very special goulash is the one from a carp with peppers, bacon and cream. This limited offer is totally worth it!
Call us for a reservation at +420 778 545 878 or go straight to the corner of Obilní trh. We look forward to your visit!
January 2020
From our smokehouse
Come to our beerhouse in January to taste specialties smoked in our smokehouse! We have prepared a whole smoked menu for you.
As a starter, you can have a smoked trout fillet with dill sauce with capers and toast or smoked pork tenderloin with bacon wrapped in coloured pepper, pickled onions, plum sauce and bread. The main courses are roast smoked pork neck with honey and Dijon mustard, potato-onion purée and red cabbage salad. Homemade smoked pork belly with warm barley salad with roasted pumpkin and sun-dried tomatoes and toasted bread. You can also order smoked beef tongue with carrot-mashed potatoes and grated horseradish with apples or smoked pork ribs with honey-coarse mustard, fresh horseradish, pickled onions and bread.
Do you feel like tasting these delicious meals? Make a reservation via our reservation form or call all us at +420 778 545 878 to book a table or simply come to us at Obilný trh, we are looking forward to seeing you!
December 2019
Venison specialties
Winter is a good time for venison on a plate, so we have prepared venison specialties for you for the whole December.
The menu traditionally includes a starter, this time two of them. Venison pate with cranberry sauce and deer loin carpaccio. You can warm yourself up with soup, pheasant broth with root vegetables and noodles. The main courses include fried marinated wild boar steak with homemade potato salad, roasted wild boar leg with rosehip sauce and Carlsbad dumplings, fallow deer goulash with fried onion, potato pancakes and Carlsbad dumplings or deer leg roasted in red wine, root vegetables and wild mushrooms with potato croquettes. Do not miss the dessert! The legend among cakes. Sacher cake with whipped cream.
We are open during Christmas holidays, New Year´s Eve and the New Year! From 11 am to midnight. The only exception is Christmas Eve (December 24th), when we are closed.
You can book a table at 778 545 878 or via our booking form.
We look forward to you and wish you a pleasant Advent time and happy holidays!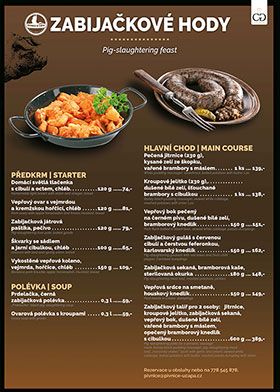 November 2019
Traditional pig-slaughtering feast
After pig-slaughtering event, which took place here on October 26, we have prepared a pig-slaughter feast for November! (Except from November 8-11, when St. Martin's menu is available.)
All the pig-slaughtering products we offer come from our home production. The main courses are white pudding (sausage) with sauerkraut and potatoes, barely black pudding with stewed white cabbage and mashed potatoes, pork flank baked in black beer with stewed white cabbage and potato dumplings, pig-slaughtering goulash with onion, chilli pepper and Carlsbad dumplings, pig-slaughtering meat loaf with mashed potatoes and pickles, pork hearts in cream with dumplings or pig-slaughtering plate for two persons. As a starter you can have a brawn, ovary, pate, greaves with lard and onion or pork knuckle with apple horseradish, mustard and bread. We also prepared black pig-slaughtering soup and ovary soup.
You can book a table via our reservation form or by phone 778 545 878.
We look forward to your visit!
October 2019
Autumn specialties
October is here so we have prepared for you a special offer full of autumn colors and ingredients typical for this period. You can look forward to trying these meals.
For a starter you can choose from fine duck liver pâte with cranberries, bacon crumb and toasted baguette or autumn scrambled mushrooms with onion and bread. Pumpkin cream soup with roasted sunflower seeds and garlic croutons should not be missed. The main courses include roast duck breast with bone in Port wine and autumn vegetables, mashed potatoes with butter, filled pork tenderloin on barley risotto with mushrooms and chanterelles topped with red wine reduction and roast beef navel with smoked salt and rosemary, pumpkin ragout and zucchini and mashed potatoes with onion. If you try a dessert, it will be like from grandma. Homemade plum buns sprinkled with sugar.
You can make a reservation at 778 545 878 or via our reservation form. We are looking forward to seeing you!
September 2019
Bavarian weeks
Traditional Bavarian specialties, beer, pretzels... This is one of the top events in Čáp every year. This cuisine is historically so similar to the Czech cuisine and very popular worldwide. What have we prepared for you this month?
This September you can enjoy Bavarian sausages prepared specially for our pub by a butcher from veal and pork meat, fried pork chop with mushroom sauce or grilled pork knuckle with honey cabbage and gruibe dumplings. As a starter we have prepared Bavarian sausage salad or Bavarian liver cheese with mustard. You also can not miss a creamy garlic soup and Bavarian muffins with plum jam and homemade whipped cream.
You can make a reservation at 778 545 878 or via our reservation form.
July 2019
Tartare fest
Since our customers, in addition to "svíčková" and goulash, also prefer steak tartare, we have decided to extend the offer of steaks tartare in a big way for you this month. So the Tartare fest is taking place at Čáp during the whole July!
You can choose from seven juicy tartare steaks. Čáp's beef tartare and Tartare of mature beer cheeses, which you usually find in our classic meals menu. The next are Belgian tartare with gran moravia cheese and Belgian fries, French tartare with pickles, Dijon mustard and garlic toast, Veal tartare with truffle oil, quail egg and gran moravia cheese, Salmon tartare with apples, créme fraiche and toast and superb vegetarian Beetroot tartare with goat cheese, balsamico and toast.
You can sit in the garden or inside in the beerhouse. Please, book a table inside via phone 778 545 878 or via the booking form.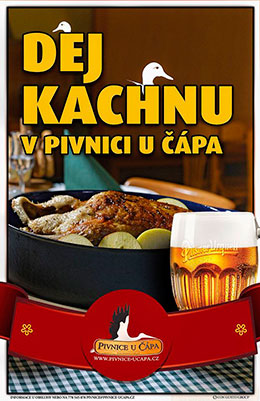 June 2018
WHOLE ROAST DUCK IN A ROASTING PAN
Enjoy an excellent lunch or dinner with your family or friends!
A whole roast duck, served in an enamel roasting pan, with a variety of bread, potato and Karlsbad dumplings, and a variation of white and red cabbage awaits you.
Then you just need to order a pint of Pilsner Urquell tank beer and a perfect gastronomic experience is guaranteed.
All this for up to four people at U Čápa beerhouse for
613 CZK
The price includes:
Whole roast duck (2200 g)
Four portions of three kinds of dumplings
Four portions of two kinds of cabbage
---