The historic U Čápa beerhouse is located near the Obilní trh maternity hospital, where more than 100 years ago, new fathers came to drink to the health of their children with their family and friends. Founded in 1960 and reconstructed in 2018, the beerhouse will please you with its homely atmosphere, the traditional Moravian and Czech cuisine of our chef Lukáš Hamala's team and Pilsner tank beer of the highest quality. You can also find here our own smoke house, framed photographs of celebrations of new-born babies on the walls, and you can sit not only inside, but in the garden right in the park as well.
October 2019
---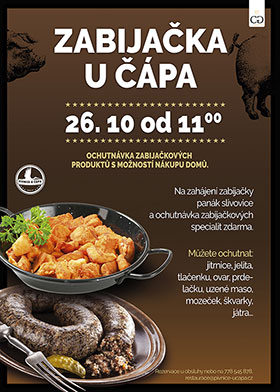 The most popular event of the year is coming! You can look forward to the traditional Moravian pig-slaughtering at Čáp´s Beerhouse on Saturday, October 26. As always, you can taste the traditional pig-slaughtering delicacies and enjoy Pilsner Urquell for a special price 35 CZK.
October 2019
---
October is here so we have prepared for you a special offer full of autumn colors and ingredients typical for this period. You can look forward to trying these meals.
---