Blog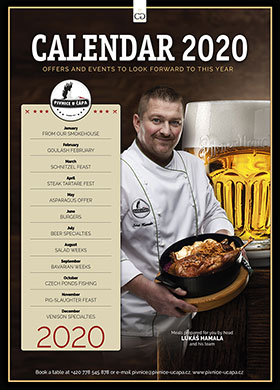 January 2020
Calendar of events 2020
Make your taste buds ready for this year, we have prepared special monthly events and offers for you!
January´s offer are smoked goodies from our smokehouse, so you can have smoked beef tongue, pork belly or ribs, pork neck, tenderloin or trout. In February it will be one of the most popular Czech dishes. Goulash! Prepare for a variety of flavours in both traditional and less traditional forms of this originally Hungarian delicacy. In March we will continue with the Czech traditional classics, which you liked the most in our beerhouse last year. A schnitzel feast! In April you will taste different kinds of tartare steaks during the steak tartare fest. We will be a little greener in May, since we will cook the most popular and valuable spring vegetables, asparagus. And get ready for June, we have prepared a specialty that everyone knows. The homemade one definitely tastes better than the fast food one. Do you have a clue? Yes, burgers! And those from our head chef Lukáš Hamala and his team are simply fabulous! During summer months we will refresh you a little bit. What is more than a cold Pilsner Urquell from a tank in a hot summer? In July you can enjoy our beer specialties. The next month will be lighter in the style of salads in different ways. Salad weeks in August. In September we are traditionally inspired by our neighbours and we will serve you sausages and other goodies, which are so typical for Bavarian cuisine. The September offer will be in the name of the Bavarian weeks. Since we are a traditional Czech beerhouse, we have prepared an offer with fresh Czech fish from our fish ponds as well. For October! During November we will have pig-slaughter specialties for you and in December you will enjoy venison feast with us. Do you like it? Get ready, the 2020 events will be worth it!
You can make a reservation via our reservation form or by phone at +420 778 545 878.
---