Blog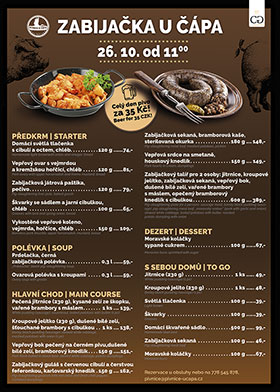 October 2019
Traditional pig-slaughtering
The most popular event of the year is coming! You can look forward to the traditional Moravian pig-slaughtering at Čáp´s Beerhouse on Saturday, October 26. As always, you can taste the traditional pig-slaughtering delicacies and enjoy Pilsner Urquell for a special price 35 CZK.
All the pig-slaughtering products we offer come from our home production. The main courses are white pudding (sausage) with sauerkraut and potatoes, barely black pudding with stewed white cabbage and mashed potatoes, pork flank baked in black beer with stewed white cabbage and potato dumplings, pig-slaughtering goulash with onion, chilli pepper and Carlsbad dumplings, pig-slaughtering meat loaf with mashed potatoes and pickles, pork hearts in cream with dumplings or pig-slaughtering plate for two persons. As a starter you can have a brawn, ovary, pate, greaves with lard and onion or pork knuckle with apple horseradish, mustard and bread. We also prepared black pig-slaughtering soup, ovary soup and favourite Moravian buns!
As always, we will be happy to pack the traditional pig-slaughtering specialties to go. You can take home white pudding sausages, barley black pudding, light brawn, greaves, homemade lean lard, pig-slaughtering meat loaf and Moravian buns. The accordion player will play some folklore songs that create the atmosphere of this unique event.
Do not miss this event of the year! We are looking forward to your visit on Saturday, October 26!
Check out the photos from last year or 2017.
Reservations for this event are not possible. Thank you for your understanding.
---